The night is pitch black. From my seat on the patio of the restaurant at Milos Cove, I can't see anything past the last table. The moon, which has been my escort for the last two weeks, has decidedly left the building, and the edge of the deck drops off into a blanket of pure void. It feels like a stage, the only sound effects the mellow electronica flowing from the speakers under the softly lapping waves of the sea. It's lulling, like being on the Nostromo in Alien before everyone starts to die. The owner, Yiannis has brought me a glass of Xynomavro. He's taken pity on me as he knows that my partner has covid and that I'm to have this luxury romantic getaway in his unspeakable beautiful resort all by myself. He brings me another. In front of me I know there are giant cliffs. I can't see them but I know they are there because I passed them on the way in driving three miles of soft clay, bouldered roads in a plastic 5-speed rental with an impressive sideswipe scar on the passenger side courtesy of the last tourist who drove it. I do not judge. Like the rest of Greece, the roads are built for one car, then used by two. Through a herd of goats, down a 30° incline that would make a theme park happy. I'm just grateful to be alive. This is Milos, and I'm here to recover from ten days of revelry traveling the wine regions of Greece with a group of badass Boston Sommeliers.
In all my years as an art director, my favorite thing about the industry was that all my friends were artists, photographers, writers. Now all my friends know about good wine, popup cocktail bars, where to eat (most of them are serious cooks), and things like … geography. With these gifts inevitably comes a zest for life and these are some of the funnest people you could ever travel with.
Plus, Greece is magic. All mountains and sea, there are stunning views around every corner. The interior of the Peloponnese has mountains that rival anything in the Rockies. There's no traffic (I'm not talking Athens). The people are genuine and exuberant. The food is fresh, local, delicious. In fact, it's hard to miss the connection between what the Greeks eat and what the earth provides. Surrounded by water (seafood), there are olive trees everywhere (olives, olive oil), goats and sheep (feta), and grape vines (you know). I knew Greece was going to be amazing but I didn't expect it to be that beautiful. It also doesn't hurt when you are here to visit some of the most talented winemakers in the country.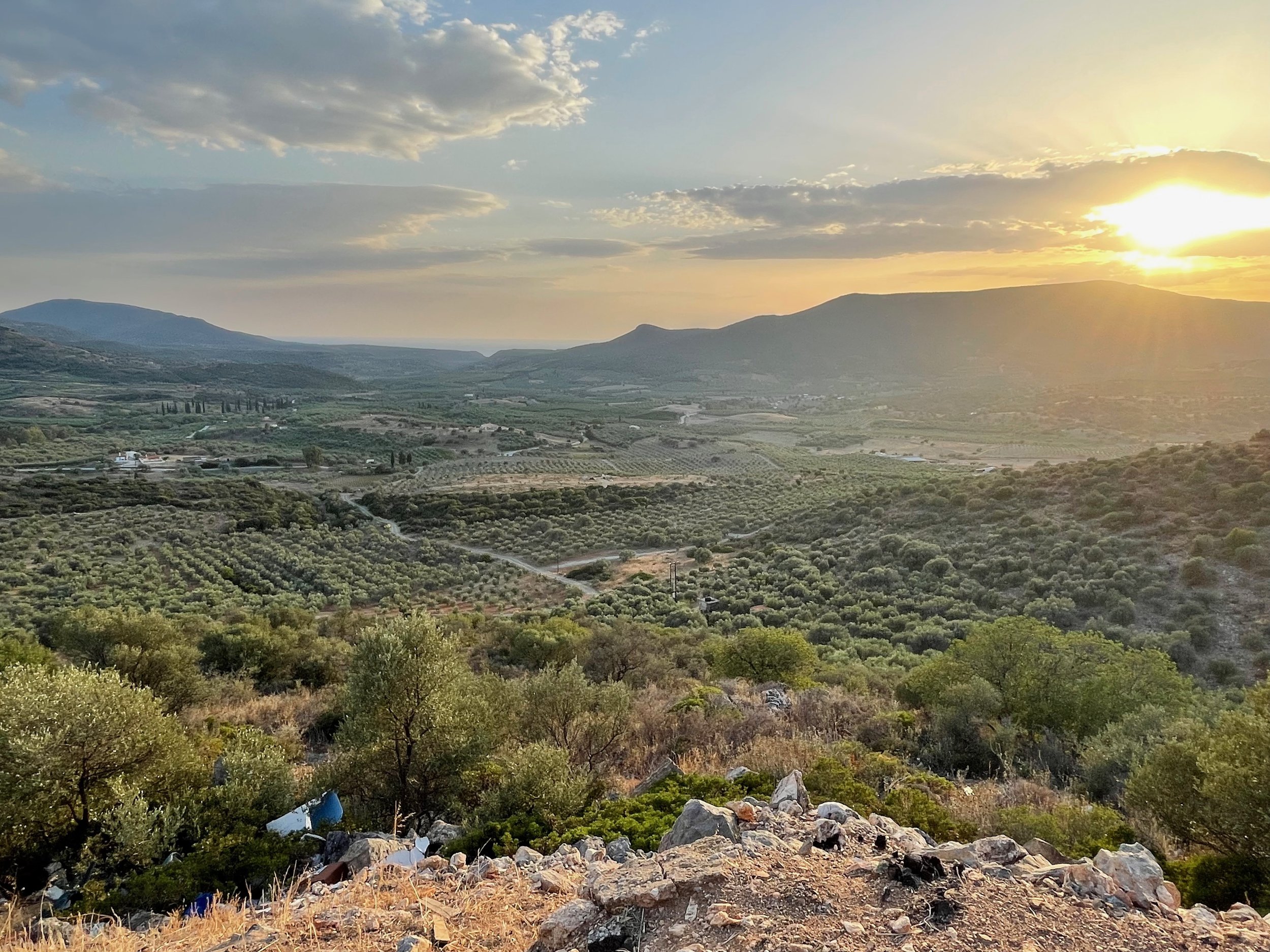 The schedule set by our hosts, Steve Schran of Vineyard Road and Markus Stolz of Elloinos was unforgiving. Days started early, usually on the road by 8am with several hours of driving. A series of wineries, some detours to a ruin or a cove for an afternoon swim, barely time to change then off for some spectacular dinner. Without exception, the winemakers went all out for us. Sometime around midnight we'd make our way to the next hotel where we'd generally hit the rooftop bar and carry on till the wee hours, then get up and do it again.
Here are some of the places we visited.
Crete is the center of all Greek earthquake activity. It rises out of the waters because it's where the African and Eurasian plates collide. Wwe spent two days here with second generation winemaker, Emanouella Paterianakis. Emanouella runs her family winery with a soft but firm hand. The winery is beautiful and modern. Gravity fed, they work with indigenous varietals such as Moscato Spinas, Kotsifali, and Mantilari. The wines, like always, reflect the winemaker: they are considered and precise. Our first meal in the plein air dining would predict all the other meals we would enjoy outdoors. Emanouella treated us to a sailing tour of the uninhabited island of Dia, an lyra performance from that made me weep and an unforgettable meal in Heraklion. If you find yourself in the the capital, make your way to Apiri Greek Eatery. With all the amazing food we ate, this was the best meal of the trip.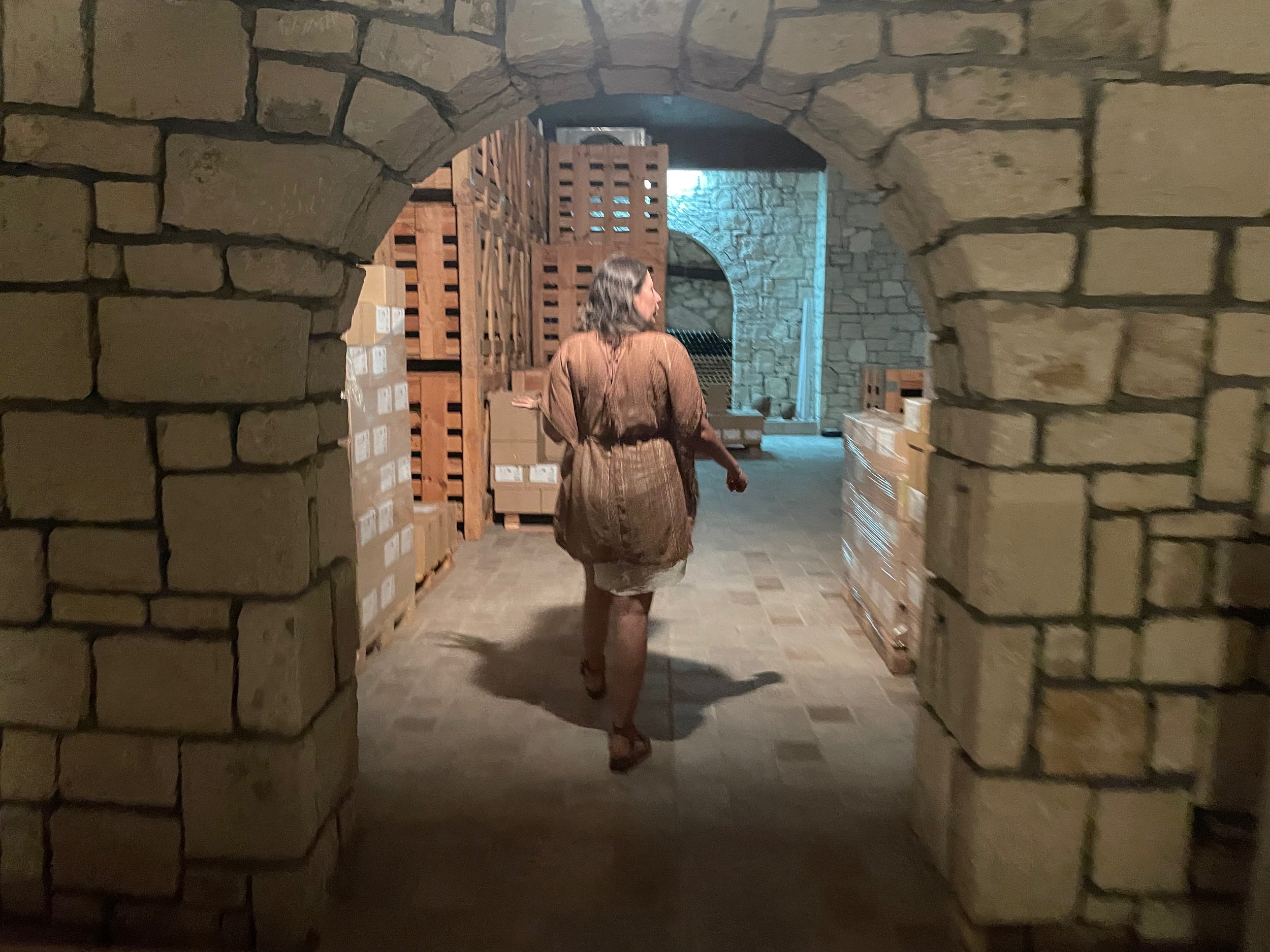 The Peloponnese Peninsula has more wineries than any other region. We met up with Panos Papagiannopoulos, the winemaker for Tetramythos Winery who also collaborates on other projects such as the wines of Edanos. Tetramythos wines are unparalleled. Panos is working in traditional styles while pushing the envelope for minimal intervention in all varietals. Pick up any of the Natur line where you can find them (such as my store, Porter Square Wine & Spirits). Edanos is a tiny winery on the side of a mountain in Achaia. The modern design of the labels does not betray its origins. The winery is basically an extension of the winemaker's home while the more expansive vineyards lay out of sight on the other side of the mountain.
We had the good fortune to travel a bit with Fanny Kolaki and Dimitris Dima who collaborate with Koukos Winery among others. Koukos is a family run business off the coast in Patras working organically with indigenous varieties. Two brothers, Kostantinos and Panagiotis collaborate to manage the family vineyards and make the wines. The vineyards are full of geese that hilariously try to escape anyone who approaches. They create a giant dust cloud as the flee. The Elektra orange wine made here from Sideritis is stellar. Close to the winery, Kostantinos took us diving for sea urchins and taught us how to eat them raw with lime juice while they were still breathing, so to speak.
Later, we enjoyed an enchanted evening in the vineyards of Markogianni in Ilia, the mountainous region near the location of the original olympic games. As the full moon rose above the mountain line, we tasted through the wine of Markogianni as bats kept the bugs away above our heads. Brother and sister team Yiannis and Antonia Christopoulou collaborate to make some spectacular natural wines. Their Diagon Vertzami requires serious consideration.
After Tetramythos, I was most excited to tour Troupis Winery. Standing behind my camera, shooting cement tanks, I was happy to find that the one in front of me was labelled "Hoof & Lur", a wine that has been a staple both at my wine shop and my restaurant for a long time. Located in Mantinia, the vineyards here were sunny and lush, nestled in among the mountain peaks. Troupis is also working with my new obsession, anything Agiorgitiko from Nemea. After I finally learned how to pronounce it, I've been discovering it in all its forms, always minimal intervention, blended or on its own.
After a detour to Patriano, a summer hiking region with spectacular slopes and dangerous mountain roads, our last stop in the Peloponnese was Monemvasia. The winery, headed by Yorgos and Elli Tsimbidi, actually worked with the government to delineate the appellation. While everyone else is growing olive trees, the Tsimbidis are making incredible wines. Yorgos and Elli now work with their two eldest daughters, Anastasia and Marilena, in the vineyards and in the winery, passing on a tradition of winemaking that will likely transform the region in the years to come. Aside from the fact that Marielena and Anastasia were two of the coolest people I've ever met, the wines are outstanding.View fullsizeView fullsize
Not to take anything away from Santorini which is gorgeous—not all vineyards are beautiful. The vines on Santorini live on desert-like volcanic soils where they are trained in a circular wreath shape to help protect the grapes from the constant wind. Our sundown tasting with Akro Chryssos on the slope of the island showcased some amazing old vine Assyrtiko and Vidiano. Spyros Chryssos is a fourth generation viticulturist who worked alongside the legendary Haridimos Hatzidakis. He is now in charge of about 200 acres of vineyards and working with some very old vines.
One of the highlights of Santorini was meeting Maria at Pelican Kips Restaurant & Wine Bar. A beautiful outdoor dining space, they have an impressive wine list and a cavernous wine cellar that goes on for days. As resident sommelier, Maria took us underground. I was delighted to see the selection of wines which included lots of Italian wines, high end Malbecs, French, and American wines in addition to the ones from Greece. A bottle of Fortaleza Reposado flagged me down from a shelf to say hello.
My new Greece friends departed, some of them heading to Athens for a few days, others heading straight home. I walked halfway to Oia feeling somewhat bewildered all by myself, then decided to head back to Imerovigli and take advantage of my caldera view. I got a bottle of wine and a burger and watched the sun go down from my balcony. Above the sunset, Venus marches across the evening sky followed by Saturn and Jupiter. My astronomy app shows Neptune and Uranus in line just behind them.
The curve of cliffside villages is carved out by the Thera volcano which had a cataclysmic eruption around 1600 BC that annihilated all local lifeforms, created towering tsunamis that devastated Crete, and threw the region into an ash winter that lasted months . Dormant since the 50s, the black, tar-like eye of the volcano is at the center of caldera in contrast to one of the most beautiful views on Earth. It says, Enjoy it while it lasts. I've let you live another day.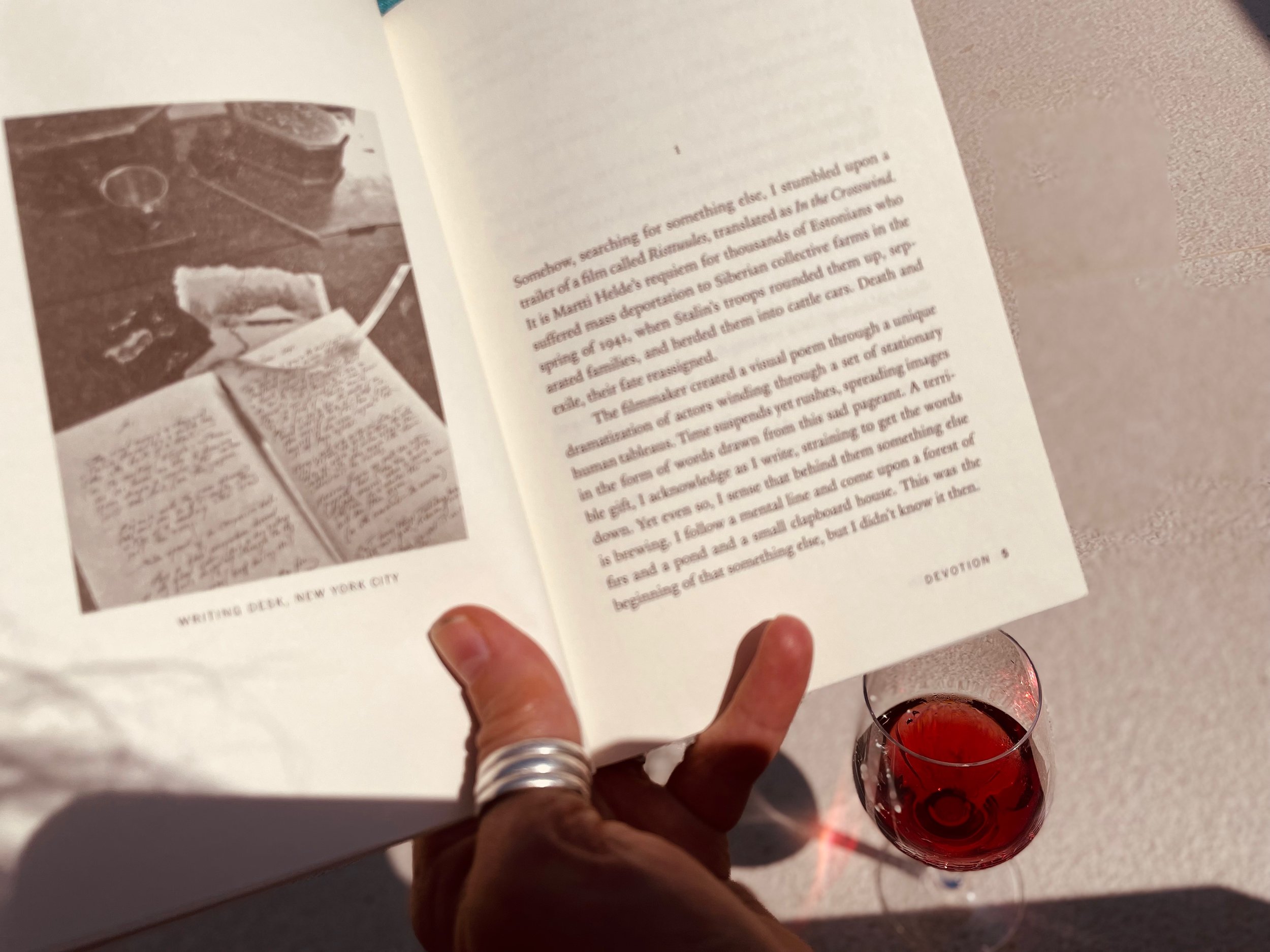 P.S. Did I mention the cats?